Guided Travel Throughout Central Europe, and More...
We have been assisting individuals & small groups to realize their travel goals in Central Europe since 1994, offering a variety of destinations, activities, lodging, and transportation according to your wishes. Please take a moment to explore our website: trips described here may be booked as listed, or used simply as an example of the different possibilities. We will be happy to assist you to Experience the Mysteries In Prague & Destinations Beyond.
Map of Destinations is a new feature on our web page. It is intended to geographically illustrate where you can find special destinations throughout the region. We hope you will find someplace(s) that will attract you to spend an extra day, or more, exploring the countryside. Each destination will have links to our tour descriptions, but you may also use this map page to plan your own tour. Just let us know which places you find interesting, and we will send you a proposal.
(Please note that map page does not appear correctly on MS Internet Explorer 9 and earlier. Please try another browser)
It is not easy to put into words just how wonderful it is to wake up in the Hotel La Fresca, on the main square in
Kroměříž

. They put out a great breakfast, and the best bottomless cup of coffee you will find anywhere. This hotel is the product of a long family tradition in hospitality.
Special Offers
Coming or Going from Prague - We can help
you reach your destination safely
...
Treating Visitors as Welcome Guests
We provide comfortable, safe and informative transfers whatever your destination, in Prague or throughout the Czech Republic.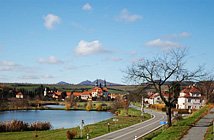 To get beyond sights listed in most guidebooks, call Tom & Marie Zahn from P.A.T.H. FINDERS Intl. Their tours are creative, affordable, and help travelers learn to find off-the-beaten-track destinations (even by themselves).
from Rick Steves' Europe Through the Back Door 2010