Retreats - For Families with Children

BOOK TOUR
A Special Getaway for Families with Children

A Time for Discovery & Adventure
Take a break with your child(ren), for a shared experience in nature. Retreats are designed for both young and young at heart, and focus on fun activities together. You will be close to nature, amidst forests and meadows, where medieval castles wait to be explored, recalling stories of magic and glory. In addition to exploring, you will be hiking, riding & swimming. Other activities will emphasize folk traditions and enhance multicultural understanding.


Program
Beginning on Mondays, retreats are intended to last 4 days (3 nights). Mornings will be spent getting acquainted through orientation exercises. Interpretive tours through historical landscapes and lessons with crafts, song and dance will take place in the afternoons. In addition, there will be evening performances by visiting storytellers, musicians and dancers. In the interest of scheduling retreats in the preferred regions, requests must be made at least six weeks in advance. If lodging is not available, other regions such as Český Ráj and Hřensko may be substituted:


Southern Bohemia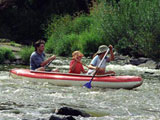 Natural Protected Zone, where it is still possible to find many examples of traditional lifestyles. Points of interest will be the small towns and villages, with an emphasis on 19th century music and customs. Lodging will be in characteristic old farm houses and mills.


Beskydy
Natural Protected Zone in Eastern Moravia. Here you can find
examples of a proud people, exempted from farm labor in exchange for their services as boarder guards. This is the land of legendary giants and defiance. These mountains also offer one of the most dramatic landscapes in the Czech Republic. Come explore the folk art, architecture, and customs of the Wallachian culture with us.


Price

$425 /Adult

$300 / Child (6 to 12 years)
$950 / Family (Adult with 2 Children)
*
Price includes:
Transportation to and from the camp

2 English speaking guides and activity organizers

Lodging

(based on 2 - 4 persons per room)

for 3 nights

3 meals daily (plus snacks)

Equipment rental

Admission fees
- Group sizes are limited to a minimum of 6, and a maximum of 12 participants, from 6 years of age.
- Parents may participate on a part time basis for $145 / day (includes lodging & meals / no transport).