Guided Travel Throughout Central Europe, and More...
Assisting Individuals & Small Groups to realize their Travel Goals since 1994. Offering a variety of destinations, lodging, activities, and transportation options, according to your wish. Trips described here may be booked as they appear, or used simply as an example of the many possibilities. Let us help you Experience the Mysteries Beyond Prague.
Above the din of Prague's historic center, there is a spacious, sunlit, private apartment, with amenities (elevator, fully equipped kitchen, washer, travel and genealogy resource library). Five minutes walk to metro (line C), the historical Vyšehrad neighborhood, with St. Martin Rotunda and the National Cemetery, this is a favorite among our visitors. Guests enjoy a picturesque bird's eye view of Prague Castle, in the relative peace and quiet of a residential neighborhood adjacent to an historic park.
Guided Walking Tour of Jewish Town in Prague
We will help you get the most from a single day in Česky Krumlov.
For any size group, we provide a safe and informative transfer to your destination anywhere in the Czech Republic.
Special Offers
Dem Bones, dem bones...
Kutna Hora is about more than dem bones
All Inclusive Package
-
(3 nights for up to 4 persons)
Basic Orientation to Prague & Introduction to Transit System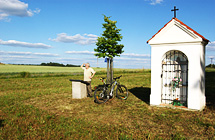 To get beyond sights listed in most guidebooks, call Tom & Marie Zahn from P.A.T.H. FINDERS Intl. Their tours are creative, affordable, and help travelers learn to find off-the-beaten-track destinations (even by themselves).
from Rick Steves' Europe Through the Back Door 2010